Never miss a keynote
With us, your audience can watch on demand, stream live and even watch in 360 degrees. Technology really has meant your event wont be missed. Whether you've sold out or you want to create content for training and / or monetisation purposes, we have you covered.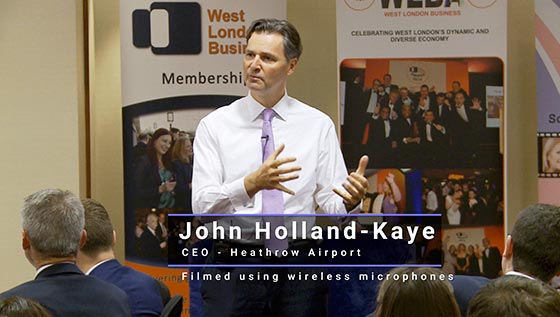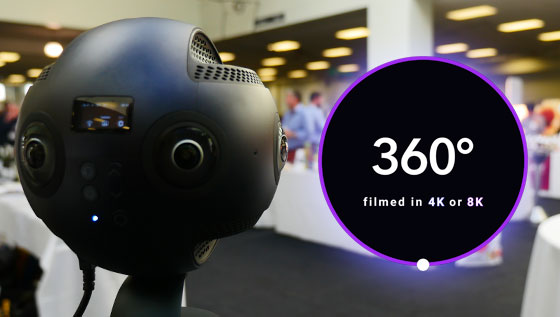 Experience your conference in upto 8K 360 Degrees
At Ultra Video, we love new technology and using the latest pieces of tech-goodness and with 8K 360 degrees video, you are getting something thats new and exciting.
8K Ultra HD 2 x16 the resolution of 1080p Full HD. Put simply, its huge and requires fibre optic broadband and a modern computer to watch on YouTube.
360 Degree filming is only viewable on the YouTube app and the chrome browser.
360 Degree live streaming is also possible.
From the horses' mouth
Testimonials are a fantastic way for your own customers to communicate to other potential customers / attendees on your conference. They say the best form of marketing is word of mouth, with testimonials added to your video, you do this to however many views you get – could be a few hundred or a few hundred thousand.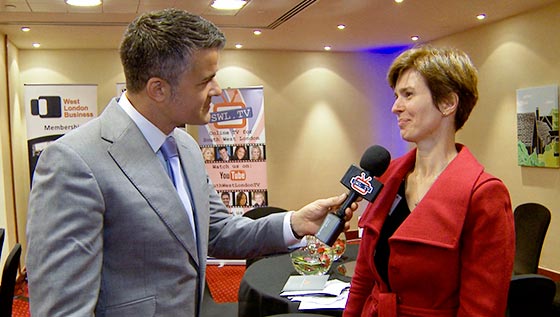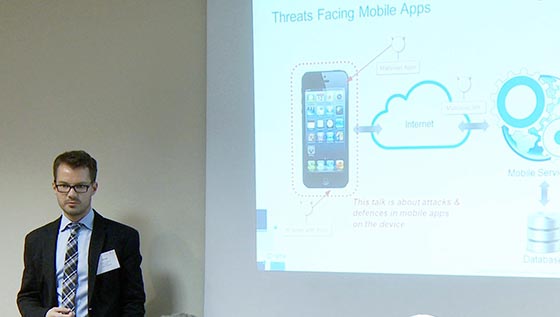 Work shops & presentations
We can also film your presentation or workshop session at your conference – we can usually record direct from the PA system or the speaker(s) can use our wireless broadcast microphones.
Reach a wider audience with South West London Television
We are partners with South West London Television, offering our clients the possibility of publishing their videos on the SWLTV YouTube channel which has over 20,000 Subscribers, which means you are almost guaranteed a video with 1000s of views.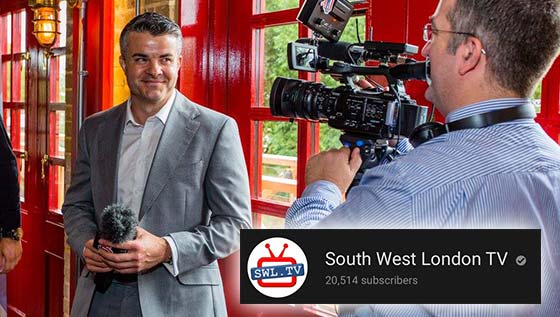 Our Conference Video Production Clients: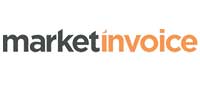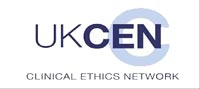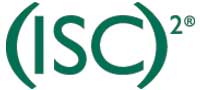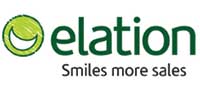 Frequently Asked Questions:
How much is a conference video?
It depends on exactly what you want. Do you need multi-camera keynote recordings? A highlights video? Still photography? Live streaming via Periscope / twitter? Testimonials? A on-screen presenter?
I have a 20-60 minute presentation that needs filming, how much does this cost?
It depends on whether you want a bare-bones one-man-band videographer with 1x tripod, 1x camera (with the same shot throughout, 2 shot sizes if filming in 4K Ultra HD and delivered in HD) and 1x wireless clip on microphone.
This would likely be in the range of £300-£600 inc. VAT.
More than one camera, wireless mic, graphics, use of slides and live streaming to periscope for example are all variables that would affect the quotation.
I'd like the slides from the presentation in the video, is this possible?
Yes, you just need to send the slides over in whatever format they are in.
Can I have more than one speaker recorded during our keynote?
Yes, we can have multiple wireless lapel / clip on / tie microphones.
I'd like two people talking on screen at one time using one microphone, is this possible?
Yes, through careful microphone placement we could do this, depending on the acoustics of the shooting location. A noisy networking room would require the use of a handheld microphone as near to the speakers mouth as possible thus, your two interviewees would need to handle the microphone themselves. This may lead to loss of audio because they may forget to move the microphone to the other person and vice versa.
I don't want a microphone in shot, is this possible?
It depends on where you want to film the testimony. A room filled with 200 people networking would require the use of a handheld microphone. To avoid having a random hand in shot, we would frame this from the chest up.
A quieter room would mean we could use a clip-on lapel microphone and have a wide shot.
A addition of a boom operator could mean you could avoid having even a small clip-on lapel microphone in shot.
Whats the turnaround?
You can typically expect a first rough cut within 3 working days of us filming.
How many revisions can I make and how many can I expect?
The video(s) is usually finished after rough cut 1-3. You can make as many revisions as you'd like, as long as they're sensible and not beyond our original agreement.
I'd like to have the video published before the start of day 2 of the trade show for maximum social media exposure, is this possible?
Yes, we can deliver a video such as a highlights package the same day or early morning. A treatment created before the event would be advisable to ensure the video meets your requirements on the first rough cut.
I have a post conference networking drinks / dinner event in the evening, could you have a highlights video of the day playing on our big screen projector at the venue?
Absolutely! We have a mobile post production station which we can edit during the day. We would generally require 2-4 hours of edit time depending on your exact requirements.
I want to live-stream my keynote via Periscope and Twitter - is this possible?
Yes, there are two methods, one using a pro-camera(s) fed into a vision mixer which is then encoded on the fly and uploaded to social media or direct from the mobile phone.
The second method is straight from the your own mobile phone. We can attach the phone to a tripod or handheld gimbal and even add a wireless clip-on lapel microphone to the mix.
The mobile phone method is not recommended due to unreliable battery life and use of a 4G / wifi signal.
Why would I want a presenter led conference video?
A presenter will engage the viewer and get the best out of your interviewees, perhaps asking that obvious question the viewer is dying to find out.
I am looking for a specific presenter-look for my video, can you help?
Yes, just let us know what you are looking for, we can then forward a curated list of possible candidates we feel might work.
Can I have a celebrity / household name-presenter for my conference video?
Anything is possible – depending on your budget of course!
Do you have more presenters to choose from other than on this page?
Yes, please contact us direct with a person spec and we can send over a up to date curated list of possible presenters.
Can I use my own presenter / staff member?
Yes of course, using your own staff member might be ideal because they know your product and brand inside out, however, they might be terrible in front of camera. Even the most confident of people get stage-fright in front of camera and may forget everything there is to know about your company. We don't recommend it.
Ideally you want to engage and to some extent, entertain the viewer watching which is where our presenter comes in. They can also ask sometimes the most obvious question which your staff member may overlook.
In many ways a presenter is the link between the viewer and your company.
Why should I use a TV Presenter over a 'up and coming' presenter?
A TV Presenter has spent years honing their skill at basically making any script sound like its not a script and to hone their skills and keeping an interview flowing.
They have a clear speaking voice, have experience of recorded and live TV so are a key ingredient in making a TV-like video production.
A up and coming presenter may lack experience, the interview might not flow with frequent pauses and they may not engage with the viewer as much as a more experienced presenter.
Everyone had to start somewhere and it's true, you can find real gems in presenting.
We actively seek new talent, so it comes down to how happy you are with a relatively unknown presenter or a established TV Presenter, depending on your budget.
What is a advertorial report?
It's just a way to turn an advertisement / sales video into more of a chat amongst friends – effectively a digital form of word of mouth marketing.