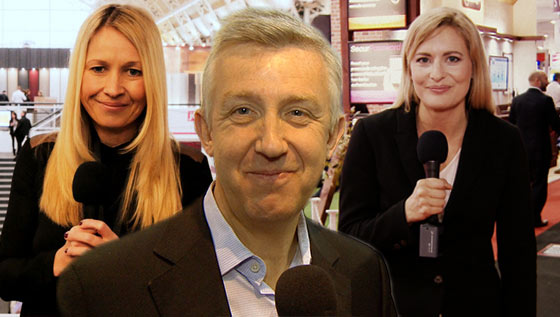 TV Presenter led
A TV Presenter is another link between the viewer and the product you are presenting. A Presenter can ask sometimes obvious jargon-busting questions to help explain everything to the viewer. In many ways, they are making your product understandable to just about anyone watching. Sometimes this is lost if you just use a interview.
It's also not just about appearance, a TV Presenter must have a certain warmth about them – a peoples' person who makes interviewee's relaxed on camera and to engage with the viewer. From active TV Presenters to newcomers, we can offer a suitable presenter for most budgets.
Advertorial is the way forward
How often do you press skip on a YouTube video advert or 'Sky+' a TV Programme on your PVR just so that you can fast forward the adverts? Sometimes it's better to re-package an advert or promotion in the form of a advertorial video. A more indirect way of advertising your product or service to your customers.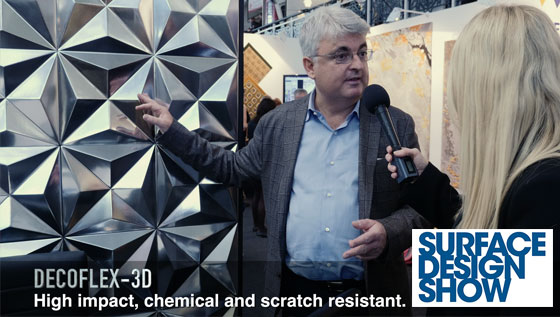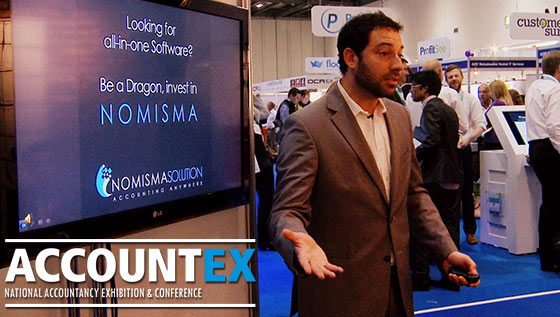 Presentations
We can also film your presentation or keynote speaker at your trade show exhibition – we can usually record direct from the PA system or the speaker(s) can use our wireless broadcast microphones.
Interviews at Trade Shows
You might just want a 1-2 minute interview segment or a collection of interviews in one 'talking head' video. This is a great way to talk about your product or service in a more engaging way than just text.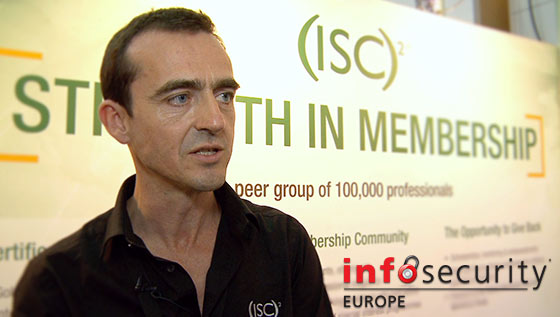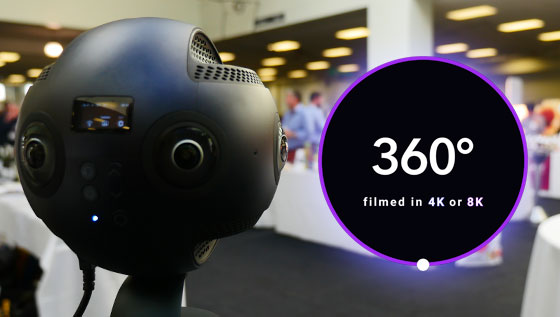 360 Degree filming in upto 8K Ultra HD resolution.
Want to offer your audience something a little bit different? We can film a presentation or other suitably interactive affair in immersive 360 degrees video. We can use a consumer grade camera filming upto 4k and upto 20 minutes or, we can film in 4K or 8K with a professional grade 360 camera with no clip limitation. This is ideal for showing off a showroom installation or multi-speaker panel discussion.
Reach a wider audience with South West London Television
We are partners with South West London Television, offering our clients the possibility of publishing their videos on the SWLTV YouTube channel which has over 20,000 Subscribers, which means you are almost guaranteed a video with 1000s of views.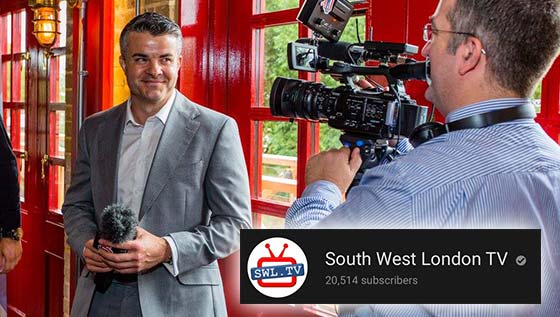 Our Trade Show Video Production Clients: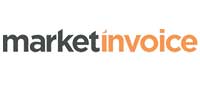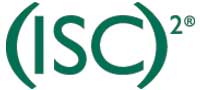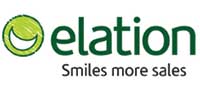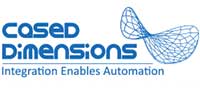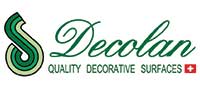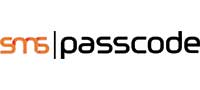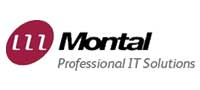 Frequently Asked Questions:
How much does a TV presenter-led advertorial trade show report cost?
It depends on exactly what you want and which presenter you choose. A TV Presenter led advertorial report with a active UK Presenter you may see on channels such as London Live, QVC etc.. would typically costs around £700 inc. VAT.
This can be lower or higher depending on a few factors such as which presenter you choose – a 'up and coming' presenter would be cheaper and the location. We could also look at cost savings if we have another video to film on the same day.
If you are only at my stand for at most an hour, why does it cost £___.__?
Freelancers tend to charge by the half or full day, not by the hour and likewise professional videographers.
With post production, you are looking at about 8-10 hours of work in total for the videographer and a set fee for the presenter.
I have a 20-60 minute presentation that needs filming, how much does this cost?
It depends on whether you want a bare-bones one-man-band videographer with 1x tripod, 1x camera (with the same shot throughout, 2 shot sizes if filming in 4K Ultra HD and delivered in HD) and 1x wireless clip on microphone.
This would likely be in the range of £300-£600 inc. VAT.
More than one camera, wireless mic, graphics, use of slides and live streaming to periscope for example are all variables that would affect the quotation.
Is there a script? Do I supply this?
You are advised to send a rough outline of what you want covered and a script might be helpful although you'd want to avoid making it sound too scripted and staged. Usually the presenter can meet before filming starts to talk about your product in more detail and ask impromptu questions to keeps things fresh.
Is their opportunity to pause during filming incase we've missed something?
Yes, absolutely. We film the interview followed by general view shots of your product. There is no requirement to do the interview in one-take so you could stop either midway through or at the end and re-phrase certain answers for a cleaner soundbite(s) or add additional content such as demonstrating the product in close up.
How long does it take to film?
We will be at your stand for typically 30-60 minutes depending on how many products you want to demonstrate and how long you want the end video to be. The video producer and presenter will discuss the filming on arrival.
I just want something filmed, do you film with mobile phones?
If we are already at the venue and you require a cost saving mobile phone set up, we could certainly supply that. We can attach the phone to a tripod or use it along with a handheld stabiliser and a wireless microphone.
It's not recommended because we can't monitor sound and as we all know, mobile phone battery life can be temperamental, although we will have a additional usb battery to charge a mobile away from the mains.
Also, image quality is not the best but if you just want something filmed, this might be good enough.
Whats the turnaround?
You can typically expect a first rough cut within 3 working days of us filming.
I'd like to have the video published before the start of day 2 of the trade show for maximum social media exposure, is this possible?
Yes, we can deliver same day or early morning. A treatment / script would be advisable to ensure the video meets your requirements on the first rough cut.
How many revisions can I make and how many can I expect?
The video is usually finished after rough cut 1-3. You can make as many revisions as you'd like, as long as they're sensible and not beyond our original agreement.
I have a post trade show networking drinks / dinner event in the evening, could you have a highlights video of the day playing on our big screen projector at the venue?
Absolutely! We have a mobile post production station which we can edit during the day. We would generally require 2-4 hours of edit time depending on your exact requirements.
I am looking for a specific presenter-look for my video, can you help?
Yes, just let us know what you are looking for, we can then forward a curated list of possible candidates we feel might work.
Can I have a celebrity / household name-presenter for my trade show video?
Anything is possible – depending on your budget of course!
Do you have more presenters to choose from other than on this page?
Yes, please contact us direct with a person spec and we can send over a up to date curated list of possible presenters.
Can I use my own presenter / staff member?
Yes of course, using your own staff member might be ideal because they know your product inside out, however, they might not terrible in front of camera. Even the most confident of people get stage-fright in front of camera and may forget everything there is to know about your product. We don't recommend it.
Ideally you want to engage and to some extent, entertain the viewer watching which is where our presenter comes in. They can also ask sometimes the most obvious question which your staff member may overlook.
In many ways a presenter is the link between the viewer and you.
Why should I use a TV Presenter over a 'up and coming' presenter?
A TV Presenter has spent years honing their skill at basically making any script sound like its not a script and to hone their skills and keeping an interview flowing.
They have a clear speaking voice, have experience of recorded and live TV so are a key ingredient in making a TV-like video production.
A up and coming presenter may lack experience, the interview might not flow with frequent pauses and they may not engage with the viewer as much as a more experienced presenter.
Everyone had to start somewhere and it's true, you can find real gems in presenting.
We actively seek new talent, so it comes down to how happy you are with a relatively unknown presenter or a established TV Presenter, depending on your budget.
What is a advertorial report?
It's just a way to turn an advertisement / sales video into more of a chat amongst friends – effectively a digital form of word of mouth marketing.
Does the presenter need to know about my product before hand, should I send a sample?
Our presenters usually learn the bulk about your product on the day. A well crafted treatment / script can cover areas you'd like the presenter to interview you about and they are always adept at keeping the interview process going.
A sample product would always be helpful and may increase the chances a presenter will ask a question the viewer is dying to find out!